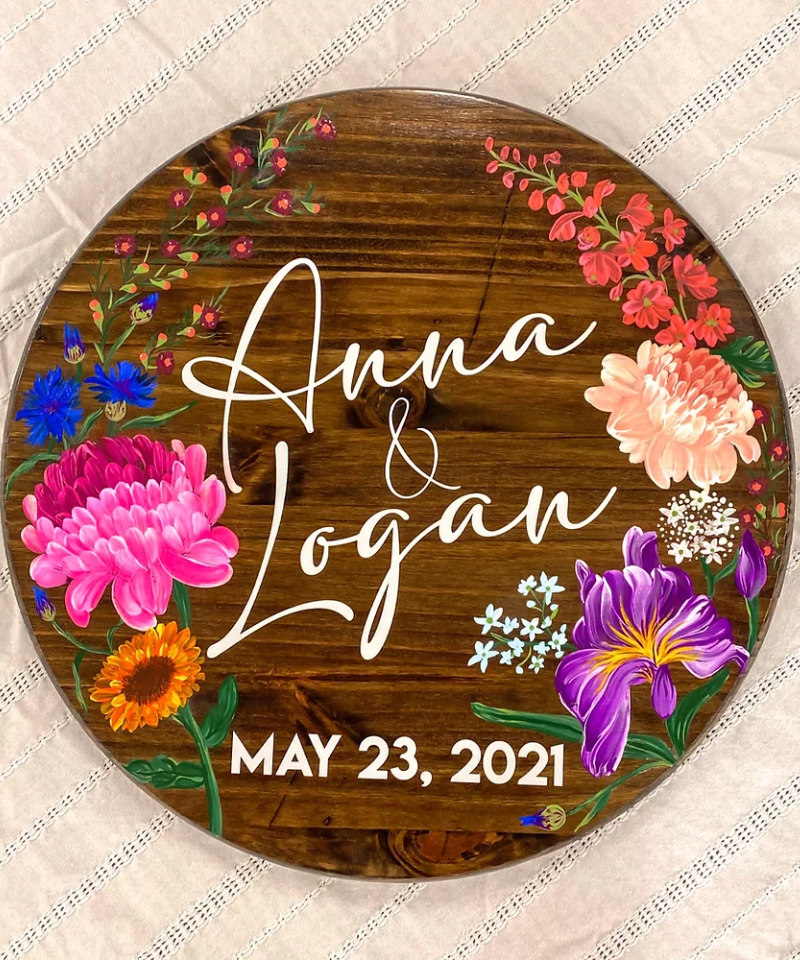 Care: DO NOT place on a wall that gets full sun all morning/afternoon or 24/7. It will decrease the vibrancy of the sign, possibly affecting the paint.
Please see our Flower Care page for an easy peasy guide on how to care for your arrangement.
If your order is being delivered, any information including what color the building is, where to park, if there are animals on the premises, etc. would be a great re-leaf to us! Thank you for keeping our drivers safe!
Delivery address will be entered at checkout!  Please read over our Delivery Details page for other questions.
This is a HAND PAINTED sign with Vinyl letters in the middle. The name can either be your last name (ex: The Walter's), or two separate names shown above. First drawn with inspiration from your photos or choice above, it is coated with aprotective sealant, and hand-stained, your sign will last forever!
Hooks on the back are included. Size is 18″ in. WxH. When hanging your sign, DO NOT place it on a full sun wall, it will affect the vibrancy of the sign.
Please allow a couple of days for us to create your piece! The piece above is a customized wedding floral selection. For custom pieces, please email us at wildlynative@gmail.com with included inspo pics.
*All pieces take time to create for you from start to finish, please keep in mind we have other orders as well. We will keep you updated on the process of your sign when it is close to being finished.*
Creative freedom is what we value here at Wildly Native so if you would like a specific type of florals from the picture (ex: your wedding florals), please specify in the email.
As for the spring, summer, and fall selections, we value our creative freedom here at Wildly Native, so trust us with your signage selection in the theme that you choose!
We take inspiration from our florals that are grown throughout the season that are grown right here on the farm. Our gallery has many photos of our florals throughout the seasons, so check them out to see what it is based off of.
Any other questions or specifications, please let us know! DM us on Instagram, Facebook, email at wildlynative@gmail.com or call us at 443-457-8475.
Subscriptions
Arrangements
DIY Buckets
Dried Florals
Gifts
Holidays
Special Occasion
Sympathy
Wreaths